Tall Pines Carpentry is a family operated business which does everything possible to make your projects as hassle free as possible. We are professional, tidy and respectful of your needs, wants and concerns. We put our clients first!
We do it all from building a home for your beloved pet, to small renovations such as kitchens and bathrooms. We build decks and docks and even the chairs to relax in. We will also take on the small fixes in your offices such as leaking faucets, drywall repairs and any other general maintenance concerns you may have.
Tall Pines Carpentry is a family operated business which allows us to keep our overhead low and enables us to offer more competitive rates to our clients.
Tall Pines Carpentry is fully insured, we are a member in good standing and maintain an up to date clearance certificate with the Workers Safety Insurance Board. This means, all employees or sub contractors hired by Tall Pines Carpentry are fully insured and are able to produce clearance certificates from WSIB.
As a word of warning, if your contractor does not have a WSIB clearance certificate or is not in good standing and an incident should happen on site, the home owner could be left liable for expenses such as medical which may be incurred by the worker.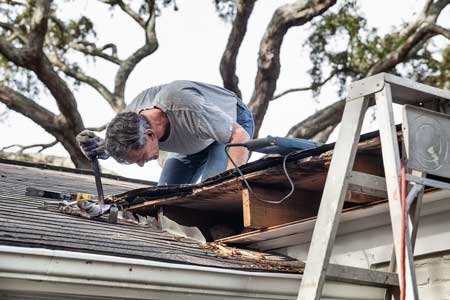 My name is Duncan Snowden, if you call me on the phone or we are fortunate enough to meet, you will quickly realize that I am an Englishman. I completed my Carpentry apprenticeship in England and after I had finished, I worked for several different companies picking up new trades, skills and knowledge along the way. I then ran my own successful carpentry business doing full renovations, interior and exterior work.
I immigrated to Canada in 2004 after a long, 2-1/2 year wait. I began working immediately for a local contractor building custom cottages, interior and exterior renovations until I had an accident. I retrained began my own business as a Home Inspector but my real passion was still carpentry, so in the fall of 2011 I opened Tall Pines Carpentry and have never looked back. I received my Canadian citizenship in 2013 so I can now call myself a Canadian, eh!
I currently reside in Paudash, Ontario which is in Faraday township where I am a volunteer fire fighter, doing my part to help my community be a safer place. I try my best to help support my local community by giving back, volunteering helping build a bigger food bank, I sponsor and coach a local children's soccer team as well as sponsoring the gymnastics team. I enjoy hunting and fishing and whatever else the great outdoors has to offer. I am happily married, with 1 child and 2 dogs that keep me on my toes.